December 2018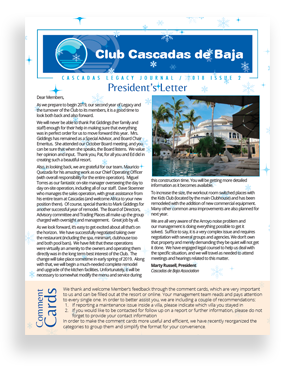 The Latest Club Cascadas Newsletter
…was just sent out. If you haven't received your copy yet, you can view it online at www.clubcascadas.com/owners.
The NEW Club Cascadas Website
…launched recently. If you haven't viewed the new site yet, take a fun tour at www.clubcascadas.com. Lots of beautiful images and helpful information.
Late Night Noise in the Arroyo
Many of you have experienced the recent noise in the Arroyo late at night. Our management team is taking action against the noise from a variety of angles to return peace and quiet to our beautiful Cascadas. We are working with the hotel association, with Villa del Palmar across the arroyo in a legal action, with the Federal Government and local police. A few weeks ago, we offered Club Members on-site the opportunity to shuttle to file a formal complaint at the Tourist Attention Center (CATAC) located at the Marina just a few minutes away from the resort. Thus far, over 50 Members have filed their complaints, which led the State's Tourism Secretary of Baja Sur to send a letter to the Mayor of Los Cabos to look into the matter and intervene accordingly to maintain Los Cabos as a desirable place to visit where they can find the expected level of comfort and peaceful sleep. An issue of this magnitude requires a joint effort. We all love Club and are committed to preserving the Legacy originated from the vision of the Giddings' Family. We appreciate the participation we've had from the Members sharing the same dream; it is what makes Club Cascadas special. Many of our long-term Members may remember the carnival and the drag racing in the Arroyo. We'll overcome this inconvenience too. As we say in the sales office, "the noise is temporary, but the Legacy lasts forever!!"
Please click here for more information regarding the Arroyo noise.
New Staff in the Sale Office
We'd like to introduce our newest staff members to your on-site sales team: Ms. Charlotte Hawley and Ms. Suly Fabian.
Charlotte will be helping Barbara Montgomery and Gabriela in the Member rental and bonus week program. Members that are not able to come down and use their villa can list their week with the sales department to get it rented or used for a bonus week for another Member.
Charlotte hails from New Zealand via Australia and the Maldives working as a marine biologist and underwater photographer at the Great Barrier Reef. "With 2 young energetic boys at home, Club Cascadas is the perfect work/family lifestyle environment. I already feel the warmth of the staff and Members and I look forward to working with our Members to help them get the most from their ownership at beautiful Club Cascadas."
If you have any questions about the bonus week and rental programs offered to Members, or if you can't use your week one year, please feel free to contact Charlotte on-site toll-free at 888-846-5571 or email charlotte@cascadaslegacy.com.
The other new sales team Member is none other than our wonderful Suly Fabian, who many know from our Cascadas front desk team. Suly went to high school in Wisconsin and has worked in a variety of sales positions before coming to Cascadas. She will be joining Africa, Alfredo, Pedro and Rory as a sales associate to help Members and guests buying, selling, renting and bringing friends! Suly is transitioning from the Ft. Desk to the Sales Office and will be joining us full time very soon.
Next time you're on-site, please stop in the sales office and welcome these two delightful new team Members.
Summertime fun…
Great rental discounts are available in select villas during August and September. Invite your friends and family and come on down. Summertime has better availability, warm water, balmy nights and great rates! Why not plan a family reunion or renewal of vows or a special birthday bash… you name it and we'll help make it happen. Call or email Barbara Montgomery in the California office 661-304-1309 or barbara@cascadaslegacy.com. Take advantage of low airfare available on Tuesday and Wednesday and extend your stay a bit. The sales department has discounted rooms available for early arrival…Monday, Tuesday and Wednesday. You may need to move rooms on Thursday, but it beats staying anywhere else and you can save big on airfare by traveling on low traffic days. Call Gaby in the Sales Office toll-free at 888-846-5571, or email to sales@cascadaslegacy.com.
Christmas Toys for Cabo Tots
The Club is once again collecting toys and school supplies for local children in need. You can drop off your gift in the salesroom or at the front desk. If you'd like to be part of 'give away day,' stop in the sales office and talk to any of our friendly agents. It's a day of giving you'll never forget!
Trip Advisor helps all of us.
Members can post reviews and pictures on Trip Advisor on the Club Cascadas page to help new guests learn why Cascadas is the best place to be in Cabo San Lucas. Positive reviews help to create rental guests which creates revenue for the owners and your association. And high demand helps to keep the property value/resale value high for all Members. Click here to post a review.
---